We've recently re-built our workshop content from the ground up, incorporating close ties to Saskatchewan Education curriculum!  
In 2014 we have brought back (by popular demand) the design challenge segment of our classroom workshops.  
Our workshops function as excellent unit introductions or reviews!
Click the tabs below for more information of classroom workshops.
Times & Locations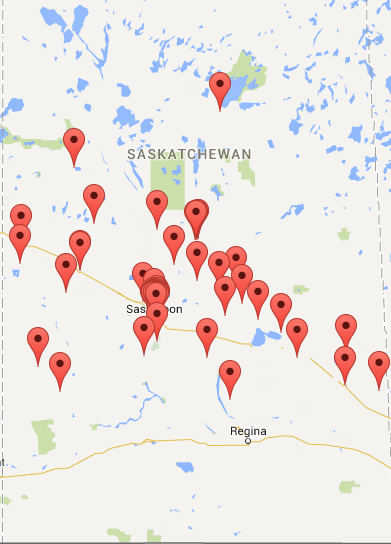 We are running workshops in 2017 from early May 10 until mid June. 
We offer four time slots per day for workshops:  two in the morning and two in the afternoon, but can run multiple workshops in a time slot.  The workshops are optimized to be 1 hour long, and are easily adjustable to account for early dismissals and recess.
Teachers must remain present in the classroom during the workshops for both legal and safety reasons, but do not have to participate in the workshop.  All of our workshops are designed to work in any classroom space and we bring all of the supplies we need for the workshop - if we have any special requests, we'll let you know ahead of time. 
We travel to schools throughout central Saskatchewan.  See recent locations below. 
Topics
The grades listed are a suggestion only - you may book workshops for any grade level.
Topic

Grades

Curriculum Ties

Life Sciences
1

Life Science - Needs and Characteristics of Living Things (LT)

LT1.1

Differentiate between living things according to observable characteristics, including appearance and behaviour. [CP, SI]

LT1.2

Analyze different ways in which plants, animals, and humans interact with various natural and constructed environments to meet their basic needs. [CP, DM, SI]

Wild World of Water
2

Physical Science – Liquids and Solids (LS)

LS2.1 Investigate properties (e.g., colour, taste, smell, share, and texture) of familiar liquids and solids.

LS2.2 Investigate interactions between liquids and solids, and technologies based on those interactions.

Electricity & Magnetism
3

Physical Science – Magnetism and Static Electricity (ME)

ME3.1 Investigate the characteristics of contact (e.g., push pull, and friction) and non-contact (e.g. magnetic and static electric) forces.

Geology Rocks!
4

Earth and Space Science: Rocks, Minerals, and Erosion (RM)

RM4.1 Investigate physical properties of rocks and minerals.

RM4.3 Analyze weathering, erosion, and fossils.

Fantastic Forces
5

Physical Science – Forces (FM)

FM5.1 Analyze the effects of gravitational, magnetic, and mechanical forces, including friction, on the movement of objects.

Fascinating Flight
6

Physical Science – Principles of Flight (FL)

FL6.2 Investigate the forces of thrust, drag, lift, and gravity
FL6.3 Design a working prototype of a flying object

Captivating Chemistry
7

Physical Science – Mixtures and Solutions (MS)

MS7.1 Distinguish between pure substances and mixtures (mechanical mixtures and solutions) using the particle model of matter.

MS7.3 Investigate the properties and applications of solutions, including solubility and concentration.  

Google: Codemakers Unplugged
8

Students will learn how to speak the language of computers in order to become producers, not just users of




technology! No computers required!
Cost & Payment
Each classroom workshop costs $60 for out of town visits or $50 if the workshop takes place in Saskatoon. 
After we have confirmed your workshop date, we will send you an invoice (as well as bring an invoice on the day of workshops). Cheques should be made payable to "University of Saskatchewan" with "SCI-FI" on the memo line.

Cheques can be mailed to us at 

SCI-FI Science Camps
Room 1C03.2  - 57 Campus Drive
Saskatoon, SK
S7N5A9 
Registration
Notes about the workshop registration process:   
We receive upwards of 400 workshop registrations each year which makes scheduling very difficult.  For this reason, you are unable to select a specific date and time for your workshop. Instead, we ask that you indicate all of the days where you CANNOT possibly have a workshop, and we will schedule around those days. We thank you in advance for your flexibility! 
You can select these non-working dates on the final step on the online registration form.  
Please include each class on our registration form. To make confirming workshops easier, we ask that you select one contact person to book all of the workshops for your school.  
How to Register
Find a contact person to submit all workshop requests for your school. 
Make a note of any non-working dates for your school. 
Your school's contact person should complete our online registration form, indicating dates that don't work to host workshops. 
SCI-FI will send the contact person a confirmation by email once workshops are scheduled. 
A designated contact person can register up to 10 workshops at a time for your school (if you want to register more than 10, you can fill out the form multiple times).