Note: We also offer week-long camps outside of Saskatoon. If you're searching for more information about these camps, click the button below.
Science Camps
Our Science Camps cover a broad range of science topics, such as physics, chemistry, biology, geology, and engineering.  The camps are grouped in terms of different age groups based on which grade they will be entering in September:
MacKenzie - Grades 1 & 2
Mad Science - Grades 3 & 4
Hutton - Grades 3 & 4
Hawking - Grade 7+ Rubik's Cube/Logic Camp


MacKenzie: Grades 1 & 2 
Mackenzie campers experience a different theme each day. During these days campers do activities and projects that reflect the theme. Mackenzie's also get to have a tour of the Natural Science Museum and get a visit from the Zoo Society.
Mad Science: Grades 3 & 4 
Labcoats, goggles, and test tubes oh my!  The campers will become mad scientists, mixing science potions to create all kinds of slimy, sometimes edible, sometimes glow in the dark, concoctions.   
Hutton: Grades 3 & 4 
Dinosaurs, rocks, and fossil hunting! Campers can be paleontologists for a week and learn all about digging for and identifying fossils. This camp will have many concepts from archeology and geology. 
Hawking: Grades 7 and up
Students will learn (they will all learn!) to solve a 3x3 Rubik's cube. No prior Rubik's cube solving ability required (preferably not actually, so we can teach you from the ground up).  We provide top of the line $20 cubes to the campers, (not dollar store junk cubes, only the best at SCI-FI).  When not challenging each other for Rubik's races, we also learn about other logic games and puzzles.  For the kid who likes a riddles, puzzles, and/or board games, this might be the camp for you.  (Warning: your child may develop an obsession with solving Rubik's cubes.)     
Technology Camps
Our Technology Camps focus on projects involving applied sciences such as engineering, computers, robotics, and electronics . One of the ways we do this is with the Lego Mindstorms Robotic Invention System, which is a unique set of Lego which comes with motors, gears, sensors, and a Lego brain unit which allows kids to build and program robots to perform a variety of tasks. We offer three different Technology camps for different age groups:
Compton's Kid-Netic Techies - Grades 3 & 4
Payette's Astro-Nuts (Space Camp) - Grades 3 & 4
Newton - Grades 5 & 6
FX - The Science of Movies - Grades 5 & 6 FULL
Tesla - Grades 7 and up

*New for 2017!!  FX - The Science of Movies: Grades 5 & 6 - FULL
This camp is new as of 2017. If you've ever wondered how Hollywood movies create their "movie magic", this camp is for you. This camp combines technology, chemistry, and creativity to discover the Hollywood secrets behind movies such as Harry Potter, Star Wars, The Lord of the Rings, and many more!
Compton's Kid-Netic Techies: Grades 3 & 4
Compton campers will be learning all about electricity, energy, and hydraulics. Campers will also be designing and building their own Lego robots!
Payette's Astro-Nuts: Grades 3 & 4
Payette campers will be learning all about planets, the solar system, and space. As this is a technology camp, the campers will also be using the Lego Robots!
Newton: Grades 5 & 6
Newton campers will be doing many challenges and hands on activities and projects that are based on technology. Not only will the campers enjoy science through fun activities and project, but they also get to design and build a Lego robot! 
Tesla: Grades 7 and up
Campers will get a chance to build their own night light and universal TV remote while learning valuable skills such as circuit building and soldering. They'll also get the opportunity to learn programming using an Arduino. No prior programming or soldering skills required.
Codemakers
SCI-FI Science Camps is proud to be participating in Codemakers, a national program powered by Actua and Google.  Actua's network members at post-secondary institutions across Canada will empower 100,000 youth with critical computer science skills and prepare them for their future roles as innovators in technology.www.actua.ca/codemakers.
There are four Codemaker camps offered this year: 

Codemakers - Web Development (Grade 5-6).  
Students will learn to create their own interactive websites.  Through the week the students will learn to code in HTML for the basic skeleton of their site, CSS code to make their websites look modern and professionally done, and finally learn a bit of JavaScript to make the page interactive and respond to the user.  

Codemakers - Video Game Development (Grade 7+).   
Students will learn to create complex interactive computer games.  Through the week the students will learn the logic of computer programming in a programming language called Lua. Equipped with that knowledge, the students will get to design and create their very own computer games!  
Codemakers - Raspberry Pi BootCamp (Grade 7+).   
Students will expand their computer science horizons outside of Windows or Mac operating systems and learn to use Linux!  Each camper will come away from the camp with their very own linux computer and the knowhow to use it.  Oh and the computer they take home fits in your pocket!
*New for 2017!!
Codemakers - 2D Animation (Grade 7+).   In this camp we will be teaching frame by frame animation, and how it's evolved over the years. Using powerful software, we will be able to create charaters or objects that move freely and can be easily animated. Independant animation has never been easier!
Girl's Only: SCI-FI is pleased to offer special "Girl's Only" Codemakers Camps during July. Please see our schedule for more details.
Medical Science Camps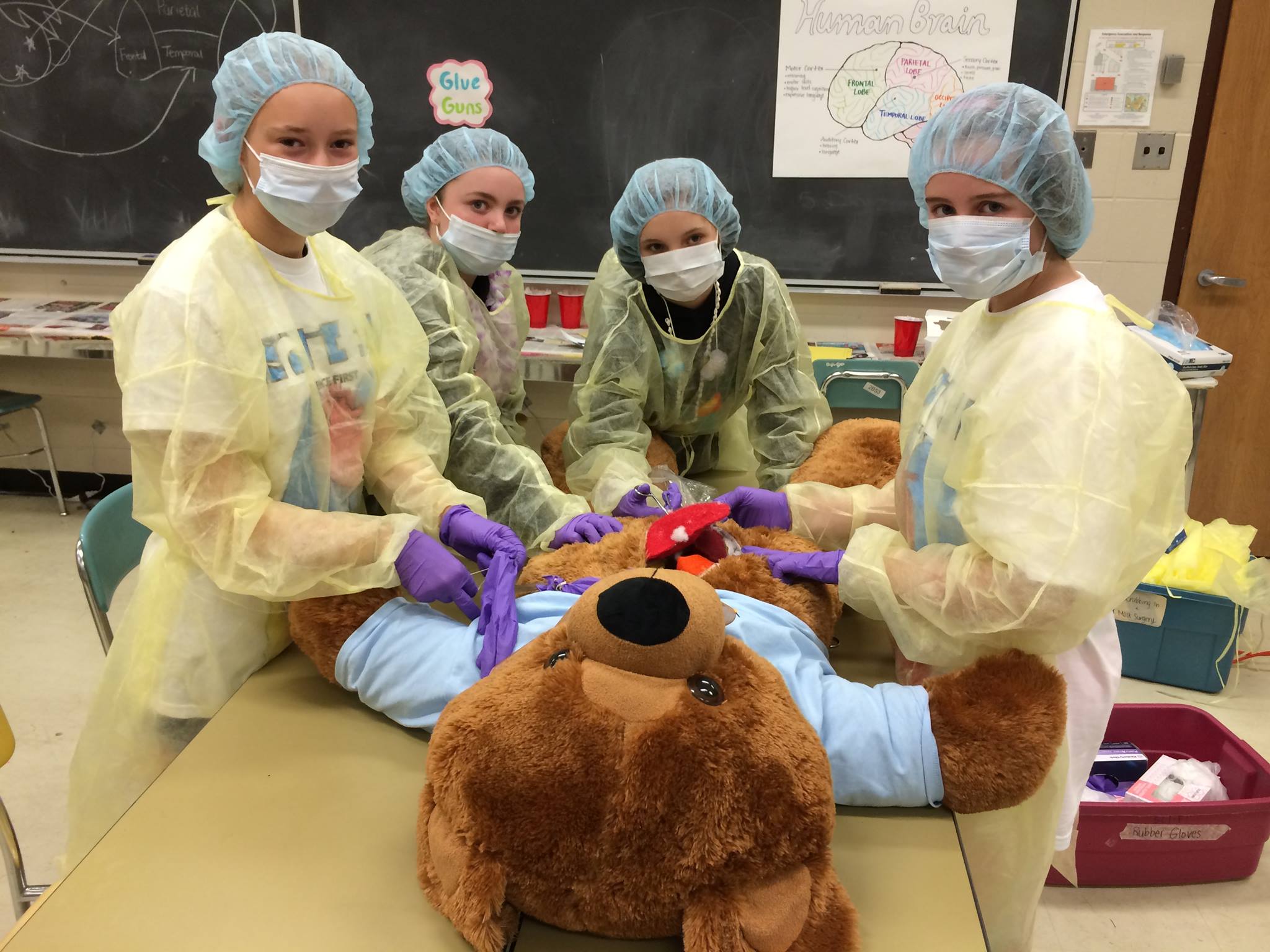 Medical Science Camps (formerly known as HealthSci Camps) began in 2009. The projects and activties are developed by students from the College of Medicine. Our health is intricately connected to the world around us, and by helping campers learn more about these connections we will promote healthy living, get youth excited and interested in health care, and most of all provide a fun and open environment for exploration of and learning about the human body.
Medical science includes a broad range of disciplines, such as pharmacy, medicine, nursing, dentistry, psychology, nutrition, etc. It incorporates the study and research of health-related issues to understand how humans function, and the application of that knowledge to improve health and to prevent and cure diseases.
Forensic Science Camp - Grades 5 & 6 
Osler - Medical Science Camp - Grades 7 and up
Forensic Science Camp: Grades 5 & 6
Crime Scene Investigation: SCI-FI Style.  
Learn the science behind solving crimes.  Topics will include: fingerprint analysis, projectile trajectory, DNA and blood types and much more!  
Osler - Medical Science Camp: Grades 7 and up
 Campers will be learning about different areas of the medical sciences which may include nutrition, pharmacology, physiology, kinesiology, biochemistry, medicine, and dentistry! Campers also may have guest speakers and tours of different facilities on campus.  If you have an aspiring doctor growing up in your household, this is summer camp for them!
Veterinary Medicine Camps
VetMed camps are offered thanks to a partnership with the Western College of Veterinary Medicine (WCVM). Our instructors will be working with staff from WCVM to develop interesting hands-on projects so that campers will be able to explore the exciting connections between the sciences and the world of veterinary medicine.
Bentham - Grades 5 & 6
Fulton  - Grades 7 and up
Bentham and Fulton:

The Vet Med camps give campers a chance to be a vet for a week. Campers get to do animal exams and have behind the scenes look at the Vet Med facilities including the dairy barn and animal clinics. Campers also get a chance to do a simple dissection. 
Extended Hours
Extended Hours is a program SCI-FI offers to parents who have to drop their kids off early and pick them up late.  Instructors supervise EH campers in the lounge before and after camp each day. Extended Hours run every week of Saskatoon camp, starting at 8:00 AM and ending at 5:00 PM. 
To register for extended hours, click the option to register for the program during the camp registration process.